There are over 35,000 WordPress plugins available!
As such it's difficult to identify precisely which plugin you need for your website for a particular purpose.
In this post, we're going to provide a list of plugins that we've found best in class for use with WordPress websites.
If you're new to WordPress, make sure you check out our article showing how to quickly & easily install WordPress on our shared WordPress hosting service.
Best Security Plugins For WordPress
The fact that WordPress is such a widely used CMS also makes it a target for more & more hacker attacks.
At Farbyte we continually monitor network traffic & block known bad actors, but installing a security plugin to WordPress is highly recommended, as it allows you to defend against WordPress specific attacks.
Hacking attempts, file modification, virus infection, etc. are vulnerabilities that can affect any website.
Here we're going to recommend only two that we consider the most complete:
iThemes Security (Formerly Better Wp Security)

This security plugin offers up to 30 ways to protect your website.
Unlike Wordfence (see below), it doesn't offer firewall protection but is a very good scanner for malicious files for your website.
PROS: Low resource consumption & low price for the paid version.
CONS: Perhaps not very intuitive & too technical for less advanced users.
Wordfence

Wordfence is one of the most complete security plugins available for WordPress.
With this plugin, you have access to a whole series of features that allow you to dispense with the need for other more specific plugins for certain security tasks.
It is an all-in-one tool that stands out:
Scanner for files containing malware & code injections.
Firewall (WAF) that identifies all types of malicious traffic & blocks it.
In addition, for users with little technical knowledge, it offers a whole series of recommendations to follow such as updates or choosing secure passwords.
PROS: Its great versatility & ease of use.
CONS: If you need the paid version, it's quite expensive.
Best Plugins In WordPress To Make Backups
At any time, your website could suffer a problem that could cause data loss or make something stop working properly.
Whether it's due to an installation, the incompatibility of a plugin, a security problem, etc. we need to make sure we have the means to recover from such an event!
To avoid this, a resource that allows us to solve unforeseen problems like this are backups.
All Farbyte shared hosting plans come with complete site backups by default.
However, you can also take the belt & braces approach to backups & install a plugin to backup just your WordPress files & data.
All-in-One WP Migration

This is a very complete plugin that makes complete backups of your website, perfect not only to repair & restore your website but also to make complete migrations of your website.
To perform a migration you only need to install the plugin on both websites (the one you export from & the one you import/migrate to).
PROS: Easy to use.
CONS: With backups already included with your Farbyte shared hosting plan, you probably don't need it.
Best WordPress Design Design Plugins
Not long ago, the design of a website was carried out in two ways
building your entire website with fully customized code.
buying a theme that incorporates a certain design that to some extent could be customised
Today this has changed, Gutenberg & visual builders allow you to completely customise a website without having to touch a line of code.
Gutenberg Blocks

Gutenberg is the standard content editor for WordPress.
It makes it easy for any user to design a page or post using blocks.
This is an excellent implementation with a lot of future ahead, but at the moment it often falls short without the addition of a visual builder like Gutenberg Blocks.
Gutenberg Blocks helps us by providing a series of very advanced blocks that greatly expand the functionality of Gutenberg.
In addition, it also integrates pre-designed templates with blocks to make our design work even easier.
This plugin is from the same company as the very popular Theme Astra.
PROS: If you want to design with Gutenberg these extra blocks are the best option, & the plugin is free.
CONS: It is not yet at the same level with regards to visual builders like Divi or Elementor.

Elementor

In a very short time, Elementor has become a great tool that has made it easy to customise & design web sites without touching any code.
In its free version, it offers many features (up to 40 widgets) but really shines in the paid version where we have almost no need to resort to other plugins for certain features such as creating forms.
On the other hand, the fact that it's such a popular plugin, with a huge community means that there is a multitude of add-on plugins that act as extensions to Elementor, thus increasing our options even further.
PROS: Integration with all kinds of plugins & tools, ease of use & a lot of information available.
CONS: It can generate an excessive dependency on one plugin.
Best WordPress Plugins For Caching & Load Speed Optimisation
Performance optimisation is key for your website.
Loading times have a decisive influence on your ranking & ultimately if you sell products, also on your sales.
Often this optimisation is an arduous & complex process that requires certain technical knowledge that not all users are prepared for.
The following plugins will help immensely with your WordPress optimisation & performance.
WP Rocket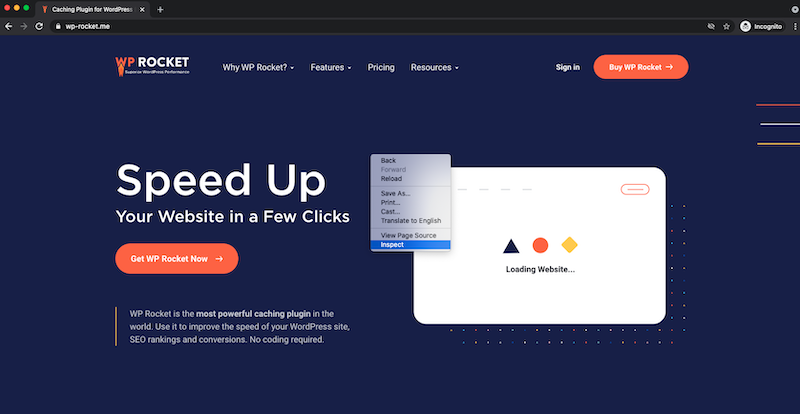 WP Rocket is one of the most valued plugins by SEO professionals & developers.
The results obtained with this plugin support its reputation.
You will notice the difference as soon as you enable it & without the need for complex configuration changes.
The following features are the ones we find most useful:
Specific cache for mobile devices
Delayed loading of content (Lazy Load)
Preloading
Compatibility & configuration with CDN
Exclusion of files to be cached
Database cleaning
Exclusion of private pages (useful for example in purchasing processes)
PROS: One click & you're done, it's very easy to use.
CONS: Only available with a yearly license
Swift Performance Lite

Not as well known as some others, but definitely worth considering.
Swift Performance Lite is relatively new, but for what it offers it is also a very interesting option.
In Swift Performance Lite you have almost everything you need to improve the loading speed of your website, even with its free version you have more than enough.
It is a very powerful plugin, with many configurations, so be careful when using it!
The most interesting features it offers are:
Database cleaning
CDN support
Lazy Load
Preloading
Analytics code insertion
Image optimisation
Manage plugin loading on the website
PROS: A very complete plugin with many features & with which you can get very good results.
CONS: Can be quite complex to configure properly.
Best Plugins In WordPress To Improve Seo
If you want to position your website to receive traffic organically (without investing in advertising) you need to do Search Engine Optimisation (SEO).
To carry out any SEO strategy on your website you'll need to use one of the following plugins.
Yoast SEO

Until not long ago Yoast SEO was undisputedly the best SEO plugin that existed.
Despite this, they have recently incorporated many new features to catch up with their competitors & thus retain more than 5 million registered installations!
There are a few features of Yoast SEO that we really like:
Schema blocks
Advanced XML sitemaps
Structured data implementation
With the premium version, there are options such as:
Internal linking suggestions
404 error monitor
Automatic creation of redirects
Social previews
PROS: Veteran plugin with a lot of information to be configured correctly, ideal for non-advanced users.
CONS: Requires paid version to have many features that Rank Math offers for free.
Rank Math

Rank Math is the latest plugin that has dared to challenge the undisputed leader plugin for SEO (Yoast) & it's really making a name for itself.
The reason for its success is that it offers more features in its free version than the competition, some of which are only available in premium versions of other plugins.
We especially like some features in its free version such as:
Redirects
404 error monitor
Integration with Search Console & Analytics
Schema configuration
Positioned keywords
Preview display on social networks
In its premium version, there are many features available but we particularly like it:
840 Schema content types available
Keyword rank tracker
Inserting watermarks to images
PROS: Very complete plugin with many features even in its free version.
CONS: You may have got used to Yoast & it may not be worth the change.
Best Plugins For WordPress To Manage An Online Shop
There's only one plugin that anybody uses for WordPress e-commerce.
WooCommerce

If you are considering setting up an online shop on WordPress then Woocomerce is the best choice.
Not only for what the plugin itself offers but also for the number of plugins that extend its functionality allowing you to fully customize your online shop.
Therefore, for efficiency & potential, it is a safe bet that has equal or better features to dedicated e-commerce platforms such as Magento, Shopify & Prestashop.
PROS: It's intuitive, free & scalable.
CONS: For certain projects, it may not be the best option.
Conclusions
With an estimated 35,000 WordPress plugins available today, this list is far from conclusive.
However, we hope it provides a great starting point for you in your WordPress journey.
At the very least it should give you an idea of the type of plugins you should be looking at for your WordPress website.
You may also be interested in our article detailing how to create a WordPress site with no programming knowledge.